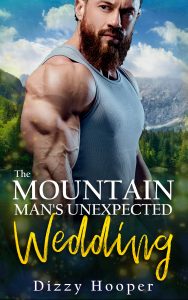 Mountain Men of Silver Ridge, Book 2
Delilah:
My entire life, I've been chasing the fairy tale. I've given up on finding a prince charming for myself, but I try to give others their happy endings by planning perfect weddings for them.
No detail is too small. Everything has to be just right.
Then he walks in my door…
Connor's everything you'd expect a mountain man to be. Huge and ripped, bearded  and gruff, and he hates everything frilly and girly. Every time we meet to discuss plans for his father's wedding, our arguments go from heated to…hot.
Before I know it, I'm spending every other night with a mountain man in my bed. I know it can't last. This isn't the fairy tale ending I've been dreaming of.
But how can I let him go, when everything about him feels so right?
This is a steamy, full-length, stand-alone romance novel with a possessive, growly, alpha male mountain man hero, enemies to lovers, naughty words, and NO cheating, NO cliffhangers. HEA guaranteed!