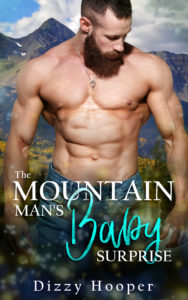 Mountain Men of Silver Ridge, Book 3
I let her get away once. I won't make the same mistake again.
Five years ago, I let the woman of my dreams walk out my door. The army had messed with my head. I couldn't—wouldn't—give her the life she deserved. So I sent her away.
Now she's back. Sexy, smart, sarcastic, and irresistible as ever. But she's not alone. She brings with her a little boy with my eyes.
One look at my son, and everything's changed.
I'm not going to let her—or our chance to be a family—ever walk away from me again.
Our attraction is as electric as ever, but my actions of five years ago left her heart scarred. She won't let me in unless I prove myself to her. I want to be the man she needs me to be. If I can't win back her trust, her love, then I'll lose both her and our son. Forever…
–
The Mountain Man's Baby Surprise is a full-length novel with a growly mountain man, naughty words, seriously steamy scenes, NO CHEATING, and a guaranteed happy ending. It is the third and final book in the Mountain Men Of Silver Ridge series, but it can be read as a standalone.
Pre-order The Mountain Man's Baby Surprise on Amazon — releases February 1, 2023